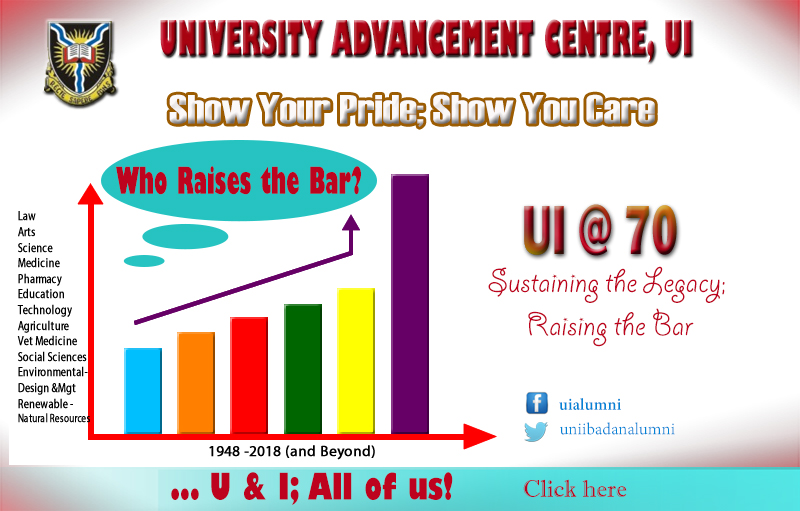 Fraternal greetings from the University of Ibadan. I have the pleasure to announce a new giving opportunity and philanthropic initiative: The UI @ 70 Fund, a crucial element of the Show Your Pride; Show You Care fundraising campaign for the University of Ibadan.
Undoubtedly, the legacy of our University in teaching, research and community engagements has been sustained over the years by all of us - successive management, Faculty and Staff, Students and the distinguished alumni community through our boundless zest and passion for those values that differentiate us from others and for which we earned the bragging right of the first and the best.
Being also an alumnus of this great University. I can identify with the treasured and fond memories of your time in the University. These memories not only stay with us but also impact greatly on succeeding generations of alumni of the University. As we celebrate the 70th anniversary of the University, the flagship of tertiary education in Nigeria, and push towards gaining world-class status, I hope you will be willing to support this push through generous donations to the UI @ 70 Fund as a show of your pride and a manifestation of your care for your University.
Please be assured that your donation will be acknowledged and put to judicious use to further enhance your pride in your University. In so many ways, UI thrives because of our alumni like you. Through you we can deliver on our mandate and fulfill our vision
Your contribution will definitely make a difference.
I thank you.
Adebowale A. Adeosun
Director
University Advancement Centre
University of Ibadan
Email:[email protected]
Telephone: +2348033840312, +2348087021900
Decide what you want your donations to support
UI Priority Projects
Groundbreaking Research
Laboratory equipment
Sports Facilities
Hall of Residence
Students Welfare/ Work study programme
Mode of Payment
Cheque enclosed (Payable to University of Ibadan Advancement Centre (UI @ 70 Fund)
Through the Remita Payment Platform (UI @ 70 Fund)
Special Gift
My Gift
A joint gift with _________________________________________________________________
(Please state the relationship)
Will be matched by my Company ___________________________________________________
(Please Indicate Company name)
A joint donation with my friends and Associates _______________________________________
(Please forward a list of friends and Associate)
Leaving a Legacy
I have listed the University of Ibadan in my will as a beneficiary
How to make a donation
You can make a donation by cheque, addressed to the University of Ibadan, University Advancement Centre (UI @70 Fund) and send to the Director, University Advancement Centre, near the Alumni Centre, No 1 Obong road, University of Ibadan.
You can also use the Remita on-line payment platform
Steps to make payments on Remita
Click on Pay FGN and State TSA
Click on Federal Government of Nigeria
Fill the form with the following details

Name of MDA : University of Ibadan
Name of Service/Purpose : [email protected] Anniversary fund
Purpose: (Specify your area of interest)
Amount: Specify the amount
GIFMIS code: (Please ignore)
Fill out other information as they apply to you and submit

Make your payment with the Remita Retrieval Reference (RRR)
Please be informed that the new Treasury Single Account policy of the Federal Government, our Proprietor, makes it mandatory for all payments and donations to go through the TSA Account. It is all to ensure that your donation reaches the right destination.
Please note that for any payment made through the online Remita platform we would appreciate if you could send us an email through [email protected] stating the amount and purpose to which you would prefer your donation be spent.